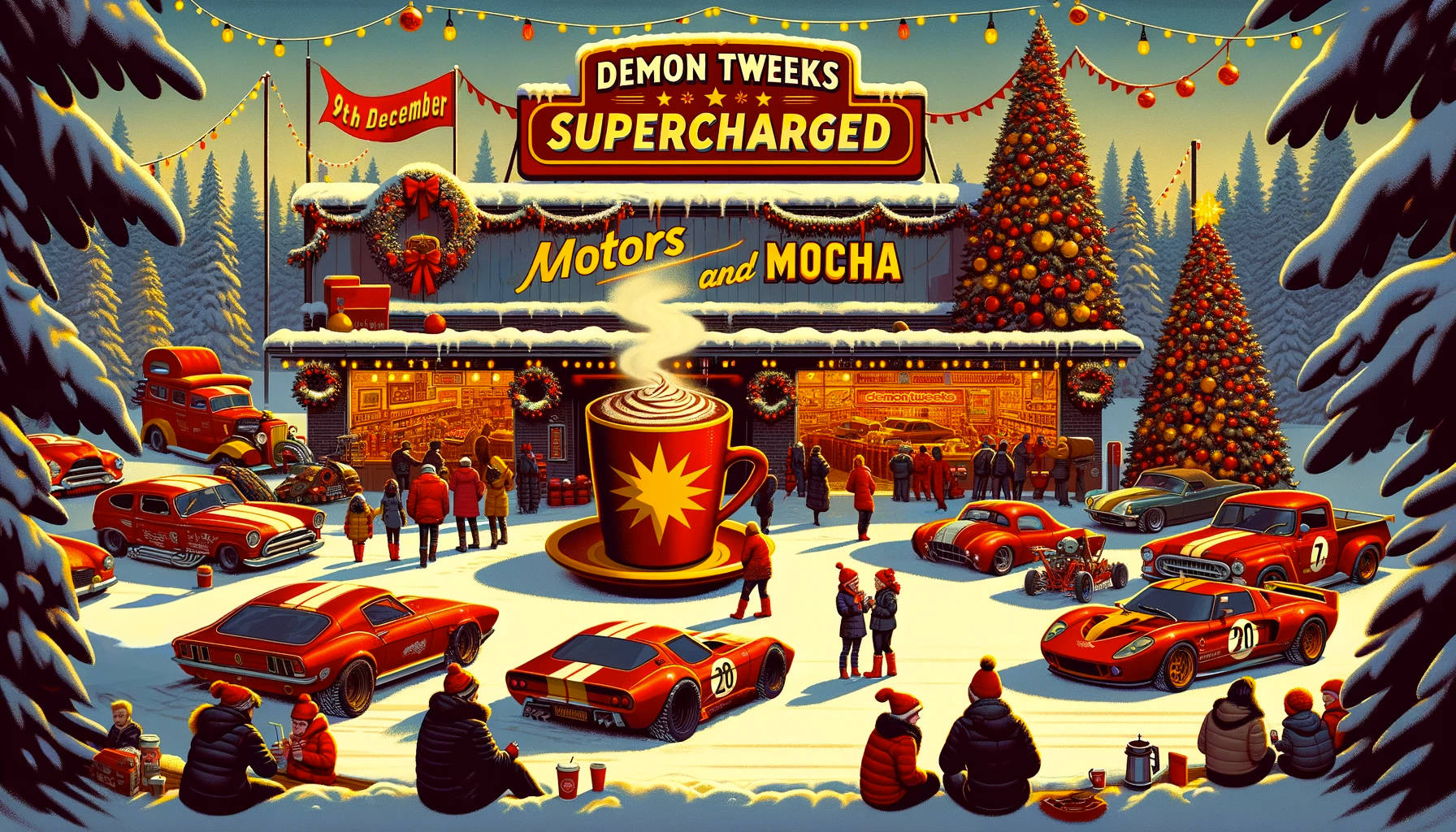 ADVANCE TICKET ONLY ENTRY - £5.00 per vehicle
(One ticket required per vehicle)
9th December 2023. Hurry Limited Availability
Get Your Ticket
Motors & Mocha: A Festive Automotive Celebration
Join us for a special Christmas edition of Demon Tweeks Supercharged. Motors & Mocha, is happening on the 9th of December from 9am to 12pm. This isn't just any car meet; it's a festive gathering of over 200 cars, combining the joy of the season with the thrill of automotive excellence.
What's Revving Up?
Diverse Display: Our car parks will be brimming with over 200 cars, ranging from daily drivers to one-off builds. Whether you're into classic elegance or modern performance, you're sure to find something that revs your engine.
Charity Raffle: Enter our special raffle to win amazing prizes like Bilstein B14 coilovers, EBC discs and pads, Demon Tweeks Merch, brand goodie bags, and more! We'll be adding more prizes as we get closer to the day. Raffle tickets are £2.50 each or 5 for £10 and can be purchased alongside your entry ticket. The best part? All proceeds will go to Hope House, making it a win-win for everyone
Special Features:
Bilstein Showcase: We're thrilled to have suspension experts Bilstein with us once again, showcasing their range. Get up close with their products and receive expert advice and one off discounts!
Exclusive Discounts: As always, enjoy huge savings across Demon Tweeks. Perfect for picking up those last-minute Christmas gifts or treating yourself to something special.
Keeping the Spirit High:
The Best Coffee: GT Coffee will be serving their exceptional brews to keep you warm and energised. It's the perfect accompaniment to a crisp winter morning filled with cars and Christmas spirit!
Event Details:
Tickets: Just £5 per vehicle, covering all passengers. Not only do you get to enjoy a fantastic day out, but you also support a great cause.
Date & Time: 9am - 12pm | Saturday, 9th December.
Giving Back
Motors & Mocha isn't just a car show; it's a festive gathering where the automotive community comes together to celebrate under the banner of charity and camaraderie. Join us for a day filled with holiday spirit, stunning cars, and the joy of giving back.
The boring bit: Terms & Conditions
Liability: All vehicles are parked at the owner's risk. Demon Tweeks will not be responsible for any damage, loss, or theft to vehicles, their parts, or contents while attending the Supercharged event.
Ticket Coverage: The purchase of one ticket covers the entry of a single car or bike and includes all its passengers. The ticket ensures a parking space for the duration of the event.
Parking: Parking locations at the event are allocated on a 'first come, first served' basis. While a ticket guarantees parking, it does not reserve a specific parking spot.
Vehicle Movement: This is a car show, which means vehicles will be in motion throughout the venue. Attendees are advised to exercise caution and remain aware of their surroundings. All vehicles must adhere to a 'dead slow' speed limit when on the event site.
Exclusive Offers: Special deals and offers are valid only during the event and cannot be redeemed before or after the specified date.
Departure Protocol: All attendees are expected to leave the event in a respectful and orderly manner. For the continuity of these events, it's crucial that attendees respect all road laws and regulations. Any unruly behaviour, including aggressive driving or violation of road rules, may impact the hosting of future events.
By attending the Supercharged Event, you acknowledge and agree to adhere to these terms. Non-compliance may result in removal from the event without a refund. Demon Tweeks reserves the right to amend these terms and conditions at any time.

Everything You Need To Know
When is the next Demon Tweeks Supercharged event? 9th December 9am-12pm
Can I get a drink or something to eat? Yes! Both fresh coffee and hot food will be available
Opportunities to feature in social media shoots and appear on our blog
There is also the potential for offers on the day
How can I get in contact? events@demon-tweeks.com
Keep up to date with all Demon Tweeks Supercharged news and offers.
Sign Up
Where To Find Us
We're located just outside of Wrexham, North Wales on the Wrexham Industrial Estate.
Demon Tweeks
75 Ash Road South,
Wrexham Industrial Estate,
Wrexham,
North Wales,
LL13 9UG
Opening Hours
Monday - Friday: 8:30am - 5:00pm
Saturday: 9:00am - 4:00pm
Sunday: CLOSED
Bank Holidays: CLOSED