Bike Fitting Centre
If you're into 2 wheels, whether it on or off-road, we can offer you a wide range of specialist ride-in-ride-out services in our dedicated motorcycle fitting centre.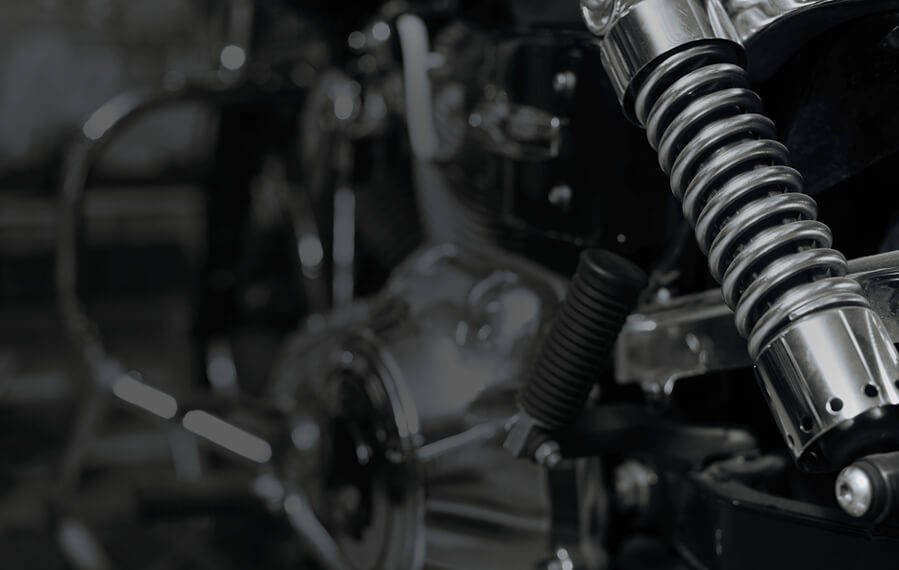 From tyres, to servicing, or health checks to track preparation, we can take care of you with fast, quality and efficient service.
To book in, please call on 01978 667909
or email us at fittingcentre@demon-tweeks.com
Open Mon – Sat 8.30am – 5.30pm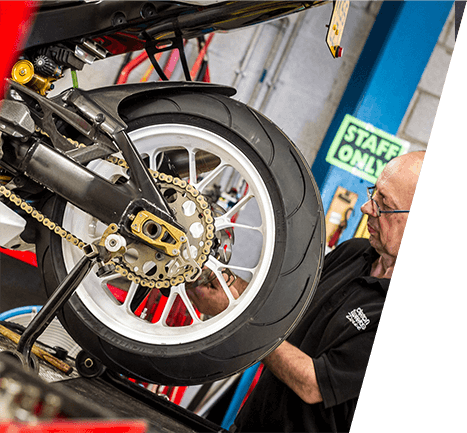 Tyre Fitting
We have one of the most comprehensive motorcycle tyre ranges in the UK! As well as impartial expert advice, we can fit your tyres. Whether you want to take advantage of our ride-in-ride-out service or prefer to bring us your loose wheels – we use the latest tyre fitting and balancing equipment and can even compliment your new tyre with a nitrogen tyre fill to give your tyres consistent and stable pressure.
It is a real race-track tip that helps you on the road too.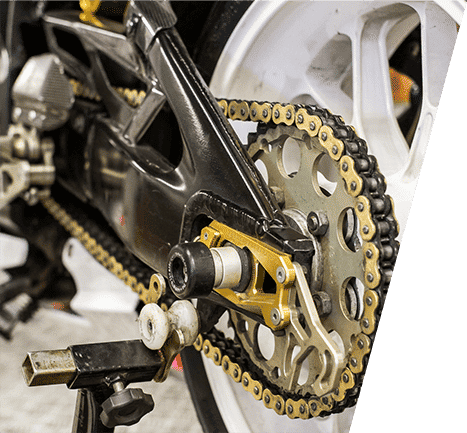 Performance Service Upgrade
We are proud to offer you a wide range of the best quality products available for your bike. Everything we sell and fit is as good as, if not better than OE standard parts and for a lot of products, we offer upgraded brakes, chains and sprockets, filters and much more! We extend our fitting and servicing services to virtually every product we sell – be it a simple brake pad change or chain and sprocket kit, or something a little more involved, such as suspension or fuelling modules, we are happy to give you a quote on whatever your needs. Our technicians are time served and avid motorcyclists who take pride in their work, maintaining your bike and happy to offer advice on anything you need or anything they spot whilst carrying out your work.
Call now to make a booking or for information.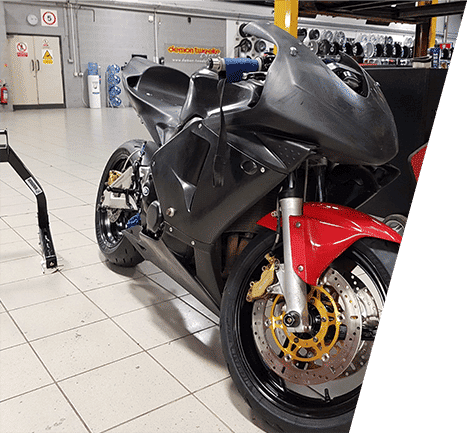 Health Checks / Track Preparation
Just bought a new bike and unsure where to start? No problem, we can give your bike a full health check and report on any work that requires attention (if any) to give you peace of mind. We can also offer you a full track preparation service if you need it? We understand a lot of people prefer to maintain their own track bikes, but if you are new to track days, then the day alone can be daunting enough, without worrying if your bike is ready for the track! Whether it's a pre-event health check, or new suspension, bodywork or crash protection etc, we can take away that stress, by ensuring your bike is tip-top and ready for the track!
It is a real race-track tip that helps you on the road too.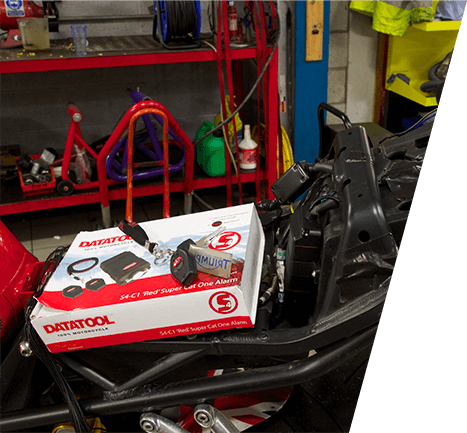 Datatool Installation Centre
We can also help you keep your pride and joy safe and are very proud to be able to offer you a fitted range of Datatool Alarms, immobilisers and trackers to help give you peace of mind. Our technicians are fully Datatool trained to install their ever-evolving industry-leading range of advanced security products.
Where To Find Us
We're located just outside of Wrexham, North Wales on the Wrexham Industrial Estate. Demon Tweeks is part of the Demon Tweeks group and is based within the Demon Tweeks superstore.
Demon Tweeks
75 Ash Road South,
Wrexham Industrial Estate,
Wrexham,
North Wales,
LL13 9UG
Opening Hours
Monday - Saturday: 8.30am - 5.30pm
Sunday: CLOSED