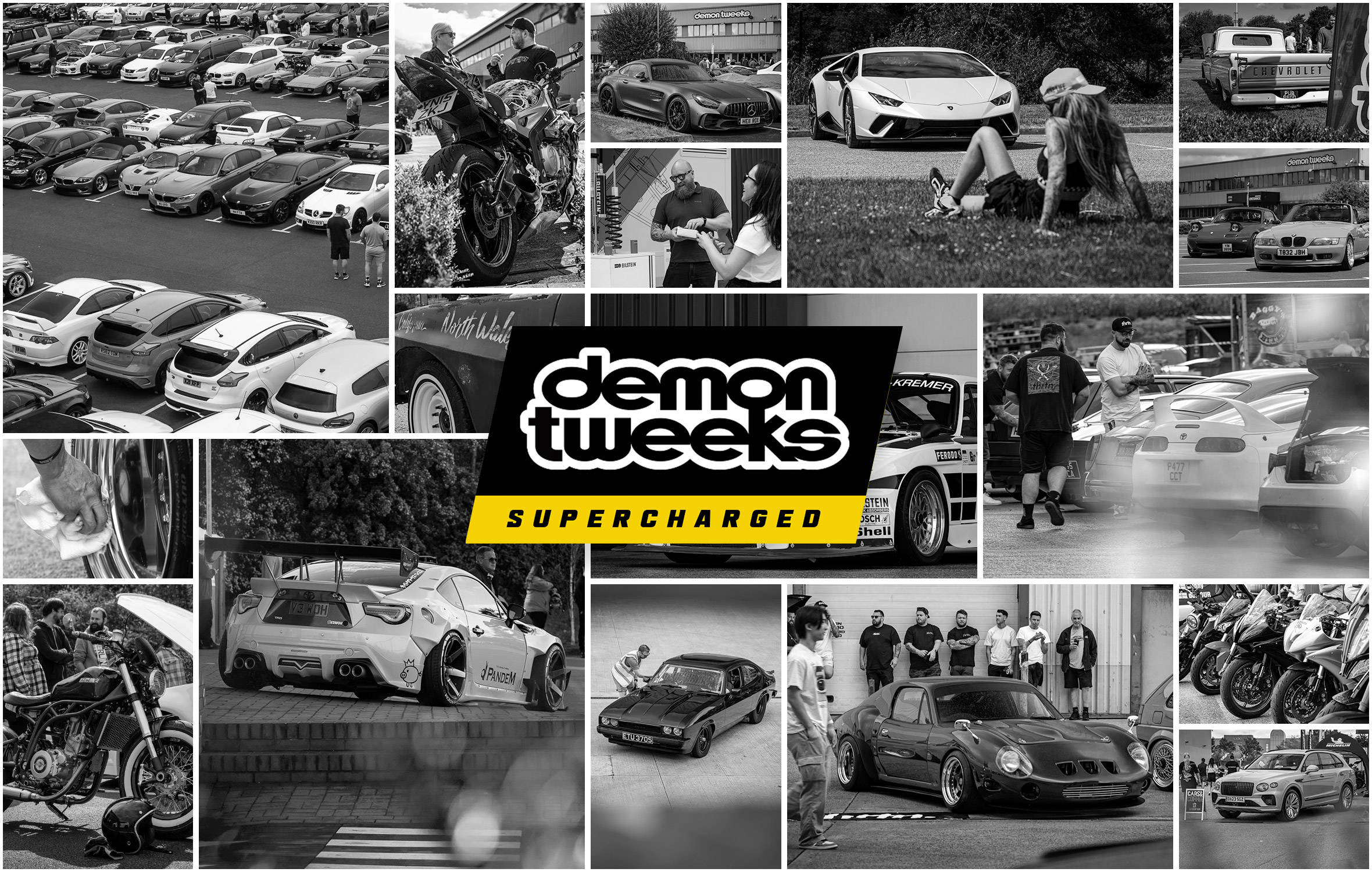 Thank you to everyone who attended!
Stay tuned for next event details
What can you expect from Demon Tweeks Supercharged?
Demon Tweeks Supercharged – Wales' Biggest Car Meet
Built or bought, bagged or static, super or sleeper, Supercharged is a meet where everything is welcome! With over 350 cars, the industry's biggest brands and the best coffee around, there's something for everyone.
A Feast for the Senses
Imagine being surrounded by the roar of engines, the smell of petrol, and the sight of stunning vehicles as far as the eye can see. From gleaming supercars and passion projects to custom bikes and timeless classics. If it's got wheels and an engine, it's welcome!
Get Under the Hood
Our events are not just about showcasing beauty; they're about diving deep into the soul of the machines. Discover the intricacies of tuning, modifications, and performance enhancements. Engage with experts, get advice on your project car or bike, and learn tips and tricks from those in the know.
The Industry's Biggest Players
Get hands on as the biggest brands in the automotive industry set up shop at our events. From high-performance parts to the latest in design and technology, this is your chance to see what's driving the future of motoring. Speak with representatives, explore new products, and be inspired by the cutting-edge advancements these industry giants bring to the table.
Competitions and Prizes
Who doesn't love to win? At Supercharged, there's always a chance to walk away with something special. From winning tickets to premium motorsport events to scoring some sweet gear for your ride, the excitement never ends.
Coffee Supreme, Breakfast Delight
First and foremost, let's talk about the "coffee" in "Cars & Coffee". We're serving up a supreme coffee experience, where a suave Range Rover turned mobile coffee bar (GT Coffee) pours rich artisanal brews. It's not just coffee, it's an experience!
Giving Back
We believe in the power of community, and that extends beyond the automotive world. Supercharged events often support charitable causes, making it an experience that feeds the soul as much as it fuels the passion for cars and bikes.
Community
At the centre of each event is our community; a likeminded group sharing the same passion… Cars! Join our Facebook group to stay up to date with all the latest on Demon Tweeks Supercharged, access special offers and share your photos.
Ready to experience the rush? Stay tuned for details on how to secure your tickets and prepare yourself for an unforgettable day!
Everything You Need To Know
When is the next Demon Tweeks Supercharged event? Stay tuned to find out
Can I get a drink or something to eat? Yes! Both fresh coffee and hot food will be available
Opportunities to feature in social media shoots and appear on our blog
There is also the potential for offers on the day
How can I get in contact? events@demon-tweeks.com
Keep up to date with all Demon Tweeks Supercharged news and offers.
Sign Up
Where To Find Us
We're located just outside of Wrexham, North Wales on the Wrexham Industrial Estate.
Demon Tweeks
75 Ash Road South,
Wrexham Industrial Estate,
Wrexham,
North Wales,
LL13 9UG
Opening Hours
Monday - Friday: 8:30am - 5:00pm
Saturday: 9:00am - 4:00pm
Sunday: CLOSED
Bank Holidays: CLOSED