Manifold-Back Exhausts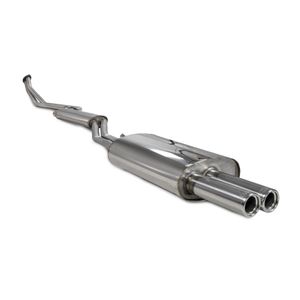 Buy now, pay later with Klarna
While a Cat-Back exhaust system is good, it's always going to be limited by the original catalytic converter and downpipe. Connecting wider bore pipework to narrower bore pipework always means you're losing some of the benefits of the wider pipework.
A manifold back system replaces not just the rear sections of the exhaust but the catalytic converters as well. The factory catalytic converters tend to be the biggest restriction in the original exhaust system.
While a cat is essential for cleaning the exhaust gases coming out of your engine, their dense honeycomb structure does restrict the flow of exhaust gases. Replacing this dense factory cat with either a higher flowing sports cat or a completely open de-cat pipe significantly improves how quickly gas can flow through the exhaust.
By improving, flow-rate power and torque are increased throughout the rev range. Normally when replacing the original catalytic converters, the engine must be remapped to allow the ECU to take advantage of the reduced restriction on the exhaust end. This allows the ECU remap to be much more aggressive as the remapper is not limited by the flow-rate on offer from the original cat.