At the Demon Tweeks Sim Racing Academy we use premium products that are used by professional racers, and when combined with a top of the range gaming PC the experience and immersion is out of this world! With years of experience in sim racing, our simulator has been carefully assembled to provide a fantastic sim racing experience.
We use iRacing as our circuit sim racing platform. All tracks are scanned with a high-tech scanner which includes all the cracks and bumps so what you see and feel in real life you can feel on your sim at home. All cars in the game are scanned and formed using real life data and dimensions to get them as close to real life as possible, after all, this is why the larger percentage of pro drivers today use sim racing to hone their skills and embed track knowledge prior to meetings.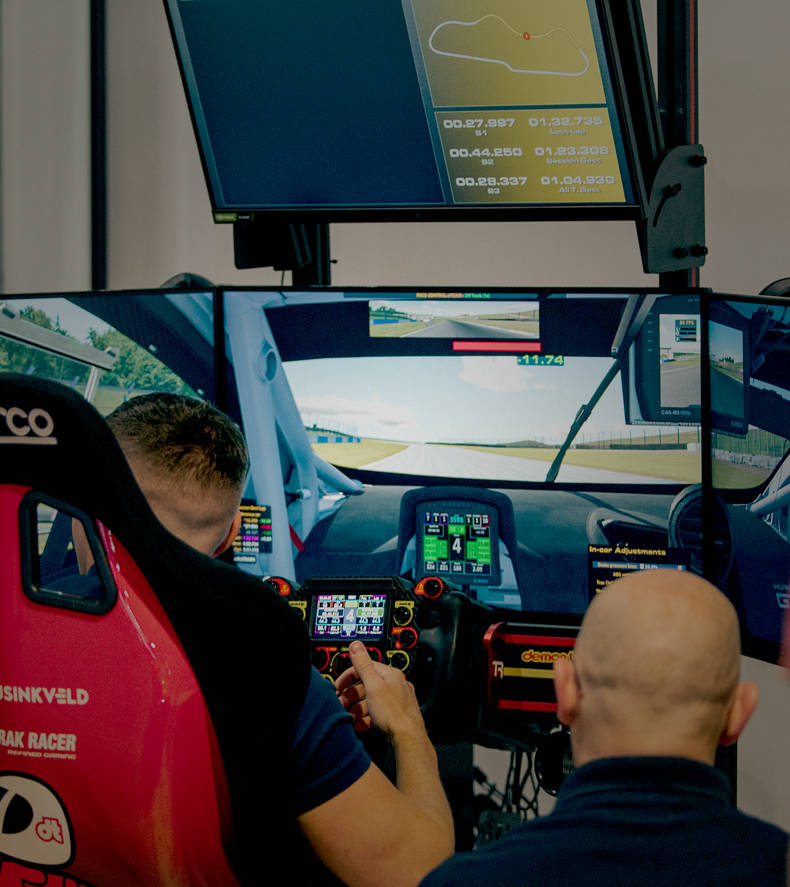 Are you thinking of getting into sim racing?
Do you want to try a new product before you buy?
Or maybe you don't really sim race and you want to learn a track that you've not been to before, then why not save yourself £1000's on testing fees?
Here is the equipment we have available

Why not book yourself a session with the experts at Demon Tweeks to show you the ropes and can talk you through and test a number of options?
The time on the simulator is charged at the below rates to make sure the rig is kept available for people who have a genuine interest in testing the equipment or experience.
£50.00
Basic 1 hour session
This session is ideal if you've been on a simulator before and would like to try a product or 2 before you buy. Prior to your booking we'll find out what equipment you'd like to try and we'll prepare the simulator for your arrival. We'll then set you up and leave you to do your hour session.
£70.00
1 Hour session with 1:1 in depth equipment and setup
This session is best suited to people who have little to no sim racing experience. Prior to your booking we'll find out what equipment you'd like to try and prepare the simulator for your arrival. During this hour our sim expert will be with you and be able to introduce you to our professional equipment and explain a number of products and how the software works and how to improve your driving as well as change some equipment to compare products to see what best suits you.
Our sessions are 1 hour long, but there is no limit to the amount of slots you can book, and don't worry if you are tall or short, we have seat and pedal sliders fitted to our rig to ensure a perfect seating position.
Please email or call our experts to book yourself in Monday to Friday 10:00am-4:00pm: simracing@demon-tweeks.co.uk // (0)1978 666478.
Email now
Where To Find Us
We're located just outside of Wrexham, North Wales on the Wrexham Industrial Estate.
Demon Tweeks
75 Ash Road South,
Wrexham Industrial Estate,
Wrexham,
North Wales,
LL13 9UG
Opening Hours
Monday - Friday: 8:30am - 5:00pm
Saturday: 9:00am - 4:00pm
Sunday: CLOSED
Bank Holidays: CLOSED
Just to note, we've got plenty of car parking space, toilet facilities, a coffee machine and a cold drinks & snack machine.